After a thrilling first leg encounter in Turin, Bayern Munich and Juventus will meet this Wednesday in Munich with their Champions League Round of 16 tie evenly poised.
Bayern absolutely dominated the opening 60 minutes of the first leg, and should have been able to finish the contest in Italy. Goals from Thomas Muller and Arjen Robben on either side of halftime seemed to end the tie, but a spirited comeback from Juventus — thanks to goals from Paulo Dybala and Stefano Sturaro — meant the match ended in a draw.
Scoring two away goals at the home of last season's Champions League runners-up, coupled with their impressive home record should give Bayern confidence ahead of the second leg, but the shift in momentum could still play a significant role in this contest. The Bianconeri have some hope now, having resurrected themselves from the brink of getting knocked out, as they make the daunting trip to Munich with the momentum offered by a positive comeback.
Pep Guardiola would have preferred it to be different, but history is on Bayern's side ahead of the second leg. The Bavarians have won their last nine Champions League home games, and also overturned a 3-1 first leg loss against Porto last year. Juventus's away form considering their last five games will not really give Bayern a big headache as well. It promises to be an interesting battle between two of Europe's most in-form teams but Bayern's devastating home form coupled with the ease with which they controlled the majority of the game in Turin, make them the front-runner in this game.
Massimiliano Allegri vs Pep Guardiola
Pep Guardiola has not yet lost to Massimiliano Allegri in 5 games. He has won two of them while the rest have ended in a draw.
Healthier defence gives Guardiola better options ahead of the game
Bayern had to start a makeshift pairing of Joshua Kimmich and David Alaba in defence in the first leg. However Guardiola's tactics ensured that the defence was well protected before their late collapse which allowed Juventus to storm back. Guardiola rates Kimmich very highly, and that was quite evident in his animated discussion with the young German after their goalless draw with Borussia Dortmund last weekend.
Javi Martinez returned to first team training last Friday five weeks after undergoing a knee surgery. Guardiola will welcome the versatile Spaniard, but there are doubts as to whether he can play a significant role in this game after such a lengthy spell on the sidelines. Mehdi Benatia, who came off the bench in the first leg, could make a start in this game.
Allegri will need a more positive approach in the second leg
Juventus' run of form since the first leg suggests they have considerable momentum going into this game. They have recorded three straight wins in Serie A, extending their unbeaten run to 19 games after a shaky start to the season. Their 1-0 win against Sassuolo on Friday made it 10 consecutive clean sheets for Buffon in Serie A. A strong defence will certainly help their cause in Germany, but Allegri knows Juventus have to score in this game to progress.
To achieve that, Juventus will heavily rely on Paulo Dybala who took his tally to 18 goals this season with a stunning finish against Sassuolo. Mario Mandzukic will have a point to prove against Pep Guardiola, and he will undoubtedly give his all to score in this game. Big games need big players to step up, and Paul Pogba will certainly relish this opportunity to show that he is ready for such big European nights of football. The Frenchman was criticised by his boss for overdoing things against Atalanta and was on the bench this Friday. Pogba will look to get things right against Bayern as the margin of error in this game will be close to zero.
Juventus defence will play a big role in this match
Juventus have not conceded a single goal in their last 10 league games, with Buffon closing in on Serie A history. While there is no doubt that Buffon will get most of the credit for this feat and deservingly so, yet it would be naive to overlook the contribution of the defensive system in front of him. Leonardo Bonucci has established himself as one of the best in his position in Europe, and along with dictating the play from the back, he has also been an able defender. Andrea Barzagli does not often get the recognition like his partners Giorgio Chiellini and Bonucci do, but he is arguably the best defender in Italy at the moment. His composure at the back is something which helps the entire team, and he will need plenty of that in the intimidating his opponents at the Allianz Arena on Wednesday. Chiellini has not yet joined training, but he might feature in Germany. Juventus know they must score to progress but their defence need to hold tight as well.
Thomas Muller will be the key man for Bayern Munich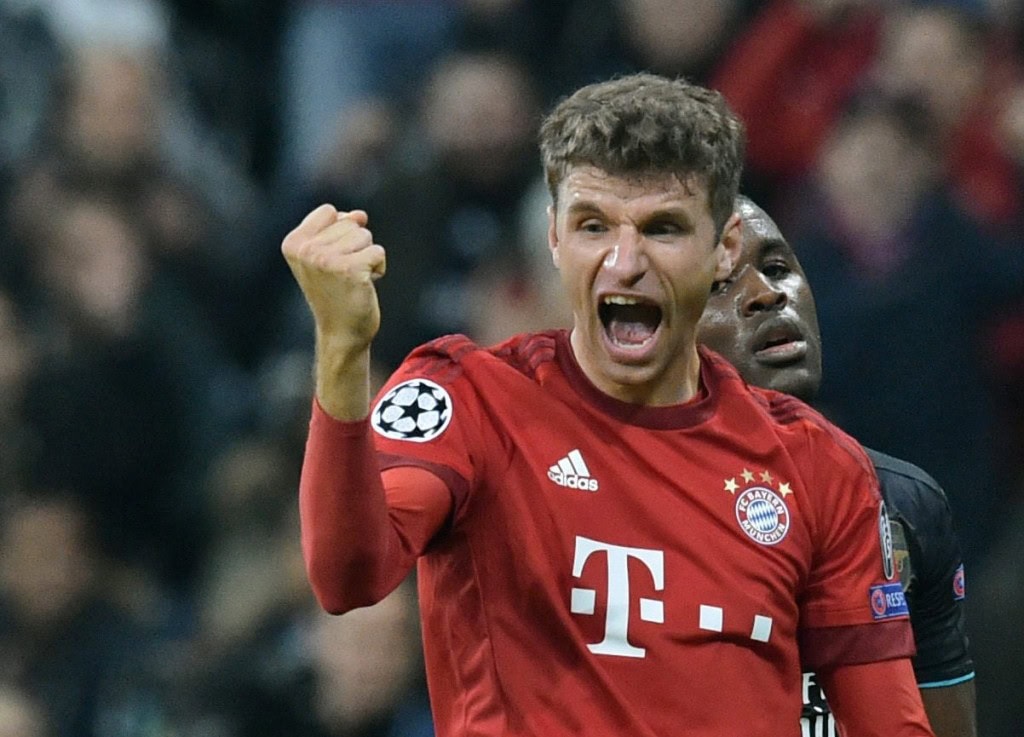 The German World cup winner has 27 goals this season already, and scored the first goal in Turin. He is always in the right position and rarely needs a second invitation to find the back of the net. His remarkable conversion rate is the reason why the Juventus defence should worry about him the most. Giving Muller time and space in the box is the last thing they would want to do. Muller's overhead kick against Darmstadt few weeks ago showed that he is capable of performing extraordinarily well. Muller is an integral element of Bayern's attack, and his form this season has been nothing short of brilliant.
Paulo Dybala vs Bayern defence
Dybala has been a key player this year for Juventus, and his contribution in their turnaround this season has been second to none. Apart from goals and assists, Dybala has also offered his leadership on the field to drive his team forward, and has settled tight games with decisive contributions. His goal in the first leg was his first in the Champions League, and while he will surely get many more in the coming years, Juventus fans will be hoping he adds to that tally starting from Wednesday.
Blast from the past
Bayern Munich took a significant step towards the semi-finals of the Champions League with a commanding 2-0 first-leg success over a strangely subdued Juventus side at the Allianz Arena three years ago in Munich.