Last weekend's Serie A matches saw a mixture of drawn matches and red cards. As we near the business end of the season, the matches become more and more intense as the teams scramble for that last place in Europe or to just stay in the topmost Italian league. This week started off with Brescia taking on last year's winner, Internazionale. Both the teams had seven shots on goal in a match, which ended one goal apiece. Eto'o put the visiting side ahead in the 18th minute when he tapped in a corner by Sneijder. Inter were wasteful in front of goal and they failed to capitalize on the early goal. Brescia came back into the match via a Andrea Caracciolo strike in the 84th minute. Sadly, his day in the sun lasted all of 6 minutes, after which he missed a penalty and also managed to get himself sent off. This draw sees Inter 4 points behind leaders Milan, who have a game in hand.
Juventus visited Cesena last weekend in a bid to ease some pressure on Del Neri. Matri opened the scoring for Juventus and after his brace in the 35th minute; it looked like Juventus's bad period is finally over. But that was not to be. Buffon was lucky not to see red for his foul on Jimenez, who scored from the resulting spot kick. Further misery fell on Juventus when Marco Motta was shown the red card just before half time. Whether he deserved a second yellow is a matter for debate, but the effect of that red was there to be seen in the 80th minute, when Marco Parolo scored the equalizer to deny Juventus all three points.
Milan hosted Bari next at the San Siro, hoping to put behind their midweek disappointment in the Champions League with a victory. Inspite of thoroughly dominating possession and having as many as 24 shots, Milan could only come away with a solitary point. Rudolf's goal for Bari in the 39th minute was a result of a quick breakaway that Milan failed to notice. After that they played a very patient game and were more intent to hold on to that one goal lead. Milan had two goals disallowed and the frustration was clearly seen on the face on Ibrahimovic. That moment of hot-headedness earned him a second yellow and it looked like Milan were heading for defeat. Cassano saved Milan's blushes with an equalizer in the 82nd minute.
Then came one of the most passionate derbies in world football, the Derby della Capitale. AS Roma took on SS Lazio after their midweek disappointment at the hands of Shakhtar Donetsk and were intent on getting all three points. The tense match saw three yellow cards in the first half itself as the teams looked to tear each other apart. The deadlock was broken by none other than Roma legend, Totti in the 70th minute with a 30-yard strike. Lazio lost it soon afterwards and were reduced to 10 men when Radu head-butted Simplicio. The misery was complete for Lazio when Ledesma also saw red for showing dissent. The game ended 2-0 in favor of Roma.
Game of the week
Cagliari 0-4 Udinese
Four goals in the span of a mere 14 minutes saw Udinese thrash Cagliari. Managing only 44% possession and having only 6 shots on goal, Udinese were efficient enough to bring down an inspired Cagliari side. Alexis Sanchez and Di Natale began their assault on the Cagliari goal from the very onset of the game and it took a brilliant save on the part of Agazzi to keep out Di Natale's goal-bound free-kick. Benatia finally opened the floodgates in the 42nd minute when he scored from a Di Natale's corner. What followed after that is surely a contender for goal of the season. Taking the ball in his own half, Sanchez started off on a solo run in which he successfully beat two defenders and also rounded off Agazzi to bury the ball into the back of the net. A brace from Di Natale killed off the game.
Serie A player of the week
Alexis Sanchez(Udinese)
It is of little doubt that the partnership of Sanchez and Di Natale has been the defining point of the season for Udinese and the same was on display during their match with Cagliari. His sublime goal against Cagliari is surely a contender for goal of the season.
Goal of the week
Alexis Sanchez vs Cagliari
http://www.youtube.com/watch?v=jgYJ5bsejGw 
Flop of the week
Stefan Radu(Lazio)
His hot-headedness was the last thing Lazio wanted in their derby against Roma. In a high-tension match, Radu lost his cool and ended up head butting Simplicio. The marching orders he received from the referee was just the reward he deserved. It would be brutal to blame him for Lazio's loss, but he played a huge part in Roma's second goal.
Team of the week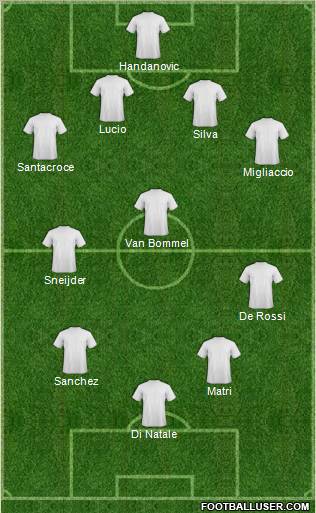 Race for the Capocannoniere
Antonio Di Natale – 22
Edinson Cavani – 20
Samuel Eto'o – 19
Marco Di Vaio – 17
Alessandro Matri – 16
Results
Brescia 1-1 Internazionale
Cesena 2-2 Juventus
Milan 1-1 Bari
Genoa 1-0 Palermo
Cagliari 0-4 Udinese
Catania 1-0 Sampdoria
AS Roma 2-0 Lazio
Lecce 0-1 Bologna
Chievo 0-1 Fiorentina
Parma 1-3 Napoli
League Standings
AC Milan – 62
Internazionale – 57
Napoli – 56
Udinese – 53
Lazio – 51